Kittens are available and ready for adoption now!

We are taking new applications for kittens available in 2023 to new applicants. Thank you for your interest in a Slava kitten and we look forward to working with you in the future!

Retired adults are available to homes within the St. Louis Region, Eastern Missouri, and Western or Southern Illinois. Contact Sherrie for details at sherriephelps@yahoo.com
Check out our Available Kittens page for more information and Contact Us to find out how to get on our waiting list to adopt your own Siberian Cat or Kitten! You can also visit the Past Litters page to see kittens fom previous litters at Slava Siberians.

The Siberian cat is a medium to medium large, strong cat that hails from a very unforgiving climate — Siberia. They first appeared in recorded history around the year 1000. According to folklore, these magnificent animals made their homes in Russian monasteries, where they would walk along the high beams as lookouts for intruders. The overall appearance should be one of strength, and force with an excellent physical condition andalertness, with a sweet facial expression.
The breed is extremely slow to mature taking as long as 5 years. The Siberian has a dog-like temperament and they are very affectionate. They are intelligent, gentle and very quick learners. They will be the best company and friend for you!
Ready to adopt?
Check out the
Adoption Information
to find out everything you need to know to adopt your own Slava Siberian kitten
or email
SherriePhelps@Yahoo.com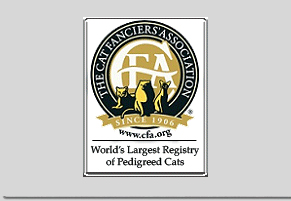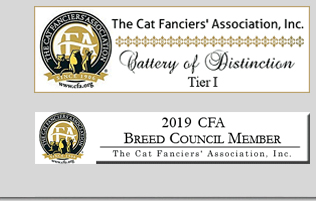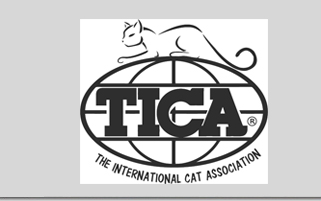 Copyright (c) 2019, Slava Siberians. All rights reserved.
Reproduction of all site content, including pictures and videos, is prohibited unless consent is obtained in writing from Slava Cattery.
Unsigned photography credits: Charodey Moonlite Serenade of Slava by Chanan; Slava Butterscotch Kiss and Charodey Joshua by Preston Smith Photography;
Slava Charisma of Cyberkoshki and Slava Better Believe It by Helmi Flick
Home
|
About Siberians
|
Available Kittens
|
Past Litters
|
Retired Adults
|
Kings
|
Queens
|
Gallery
|
Testimonials
|
Contact Us